Uber, Ola, Didi and other ride sharing services are a great way to enjoy a hassle-free night out with friends or a convenient ride home from the airport.  Ride sharing services can be a lot cheaper than taxis and have been a very popular transport option amongst Australians within recent years. Just like with any vehicle out on the Australian roads, accidents are bound to happen, so it's important to know what to do next if you're in an Uber, Ola or Didi car accident.
What is Ridesharing?
Ridesharing involves car-owners picking up passengers and transporting them for a fee in their own vehicles. Companies like Uber, Ola and Didi provide a mobile app platform for connecting passengers with drivers.
What Happens When Your Uber, Ola or Didi Gets in an Accident?
Unfortunately, accidents happen – just as they do when travelling in any motor vehicle.
If you've been involved while riding as a passenger in an Uber (or any other ride sharing service) then it is likely that you will be entitled to make a personal injury claim for compensation.
It does not matter whether it was your driver's fault or whether the accident was caused by another road user.
Some of the most common Uber accidents include:
Collisions with other motor vehicles (Uber driver at fault)
Collisions with other motor vehicles (another road user at fault)
Pedestrian struck down by an Uber driver
Collision with a stationary object (pole, tree or other object)
Assault by an Uber driver
Do Uber and Other Ridesharing Companies Compensate for Car Accidents?
What if you're unlucky enough to be injured in a car accident while you're a passenger in an Uber or rideshare?
You're covered by CTP insurance every time you ride in an Uber. All Uber drivers are required to have registered motor vehicles that are covered by CTP insurance to cover themselves, their passengers, pedestrians and other road users.
Even if you are injured and the driver of the other vehicle was at fault, you will be able to claim through their CTP insurance.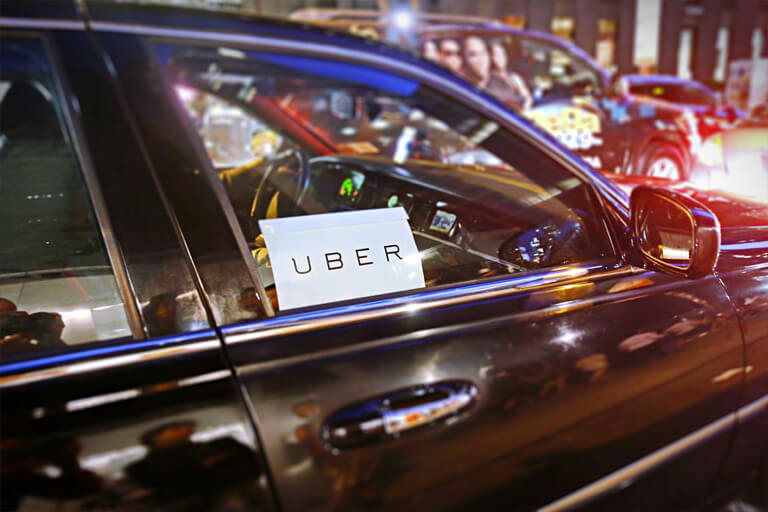 What to do if You're Injured in an Uber or Ridesharing car Accident as a Passenger
If you're injured in an Uber or ridesharing accident, there are some steps you should taking following the accident.
1. Report the accident to the Police.
The accident must be reported to the police in order to make a CTP claim.
2. Get the details of who's involved and take photos.
Make sure you get the name and address of the drivers and the registration numbers of the cars involved in the accident.
3. See a doctor.
If you haven't been taken to hospital, see your GP as soon as you can. Make sure you tell the GP about all your injuries.
4. Report the accident within the ridesharing app you were using.
All ridesharing apps will have a method or reporting an accident during your trip. Whilst they may differ between apps, its important that you report the accident to the relevant company so they are aware of the incident and can investigate further.
5. See a lawyer.
If your injuries affect your activities of daily living or your ability to work, see a lawyer who specialises in personal injury law to help you lodge a claim for compensation.
How are Injury Settlements Calculated for Uber and Ridesharing Accidents?
There are a few factors that contribute to how an injury settlement is calculated, which include:
Pain and suffering
Loss of income (past, present and future expenses)
Medical and rehabilitation costs
Ongoing care if required
Can you Still Drive for Uber or a Ridesharing Company After an Accident?
Most ridesharing apps still allow you to drive for them if you have been in accident as a driver, however it will depend on the severity and factors involved in the accident. If you have been in an accident as an Uber driver, you'll still be able to drive for them in most cases and they even provide rideshare accident replacement vehicles in some instances. To view more about Uber's accident vehicle replacement program, check out the link here.
Can I get Workers Compensation as a Rideshare Driver?
Unfortunately, drivers for Uber specifically are classified as independent contractors and not employees, therefore can't claim workers compensation after an accident.
What are the Rights of Taxi Drivers v Uber Drivers?
Only a "worker" is covered for workers' compensation. Uber drivers are not covered by workers' compensation schemes in QLD, however most taxi drivers are independent contractors and not covered either.
Speak to a Ridesharing / Uber Accident Lawyer
When you engage GC Law to help you through your accident claim, you can then focus on your recovery while trusting us to look after the complex legal issues involved in your claim.
Our experienced lawyers have the expertise, experience and dedication to help you through your claim.
Get in touch with GC Law today.